Bad Brains 1982 Live video !
stogref


01/23/2008 09:31AM

Bad Brains - Live At CBGB's 1982
[2006.MVDvisual]
Tracklisting:



This DVD gives a great snapshot of a time and place--well, three nights in 1982 when Bad Brains were at, or about to reach their peak. Technically, there are many blemishes such as varying audio quality and shaky blurry camera work. However, it's striking how effective some of the focused shots on individuals in the crowd really capture the feeling of those shows. (I wasn't at those shows but did see them the same year.) For example, there were tons of people jumping onto and off of the stage... no big security people standing guard. One dude was just sort of standing there on the stage until HR finally pushing him off.

The images add context to the wildness of the music. The reggae tunes add an interesting balance. But what I really walked away with (I saw this in a theater tonight in Portland) was that Bad Brains really put their heart into their work. No matter what you do, you can watch this and say "wow, if you're going to do something you might as well go all the way". It's an inspirational movie.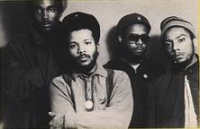 A bigger review HERE!

Video: XviD- 704x480. FPS: 23.97 Bitrate: 2039 kb/s
Audio: 192 kb/s (96/ch, stereo) CBR 48000 Hz
Lasting: 00:57:50
Je vais pas chroniquer ce DVD, les connaisseurs savent que c'est un bijou et la frénésie qui se dégage des shows des BB est hautement communicative, y'a qu'à voir l'expression sur les visages des jeunes présents lors de ces trois soirs au CBGB's. Enjoy et saute partout!
Nouvel upload, un seul fichier.

Direct: Link